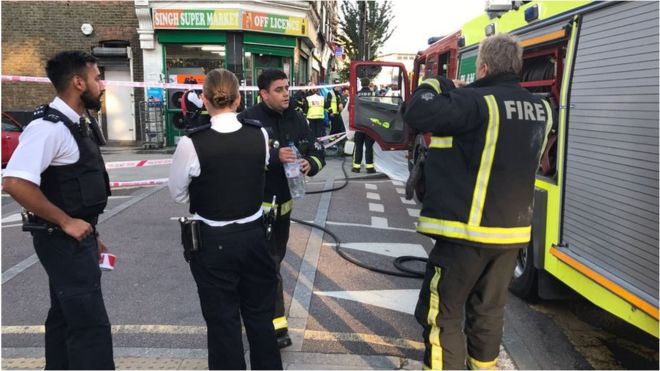 Two men have been targeted in a suspected acid attack in east London, with police, fire and ambulance services at the scene.
The Met Police said the men, thought to be in their late teens, flagged down officers in Bethnal Green.
Both men were taken to hospital. Police said it was still not known what liquid was thrown at them in Roman Road.
Witnesses said at least three fire engines, two ambulances and police responded.
No arrests have been made.
A Met Police spokesman said officers awaited an update on the condition of the two men and inquiries were ongoing.
He said a crime scene remained in place in the area.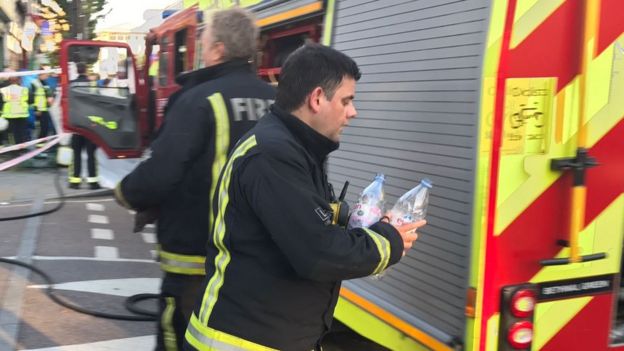 Firefighters filled bottles of water from their vehicle
Tower Hamlets police
tweeted
a "suspected acid attack" had taken place.
BBC journalist Neil Brennan, who lives in the area, said the attack happened outside a corner shop, about two minutes from the Tube station and near police and fire stations.
He said people nearby told him two Asian men had been attacked.
"I saw firemen filling two large bottles with water from the fire truck and ferrying it back and forth to the victims," he said.
A blue tarpaulin was put in place, which he assumed was to shield the victims, he said.
A tarpaulin was put in place at the scene
BBC