GURGAON: Next time you receive a call from an unknown number on your cellphone, especially a number that begins with +92, think before taking the call. You may be in for a prank, or a scam. For starters, answering such a call might cost you a big amount.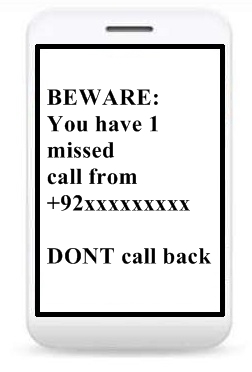 According to experts, +92 is the country code of Pakistan, and miscreants use this code and call up unsuspecting cellphone users to siphon off money or lure them into a scam. Despite alerts from police and cyber security experts, cyber criminals from Pakistan and elsewhere continue to waylay mobile phone users and make easy money.
In the past few days, at least two persons have confirmed having received calls from numbers that begin with +92. There were instances of such calls between January and March as well.
A cyber security expert said mostly such calls are generated from Pakistan, but in some cases, they are also generated through computer programs in any other country and then routed through Pakistan. The expert said there was no foolproof system to identify whether a call was a prank or genuine. Therefore, precaution is the only way to avoid answering such calls.
Anurag Singh, a private firm employee, said he received a call from a Pakistan number and answered it as he was not aware about such prank calls. "On answering the call, I could hear obscene sounds. So, I immediately disconnected the line. By that time, I was charged Rs 45," he said. He said one of his friends too had received such a call, but did not answer it as he was aware of the pranks going on.
In another incident, a victim, who did not want to be named, said he saw a missed call on his mobile phone, and as a routine practice he returned the call to the number. "The call was received by a woman, who claimed to be calling from a jewellery company and offered me a pearl necklace at a giveaway price as I was among the lucky winners," he said.
None of the recipients of these calls have suffered major financial losses and haven't lodged any police complaints. A senior policeman said he has not received any complaints in this matter, and advised the public to be careful while attending such calls.