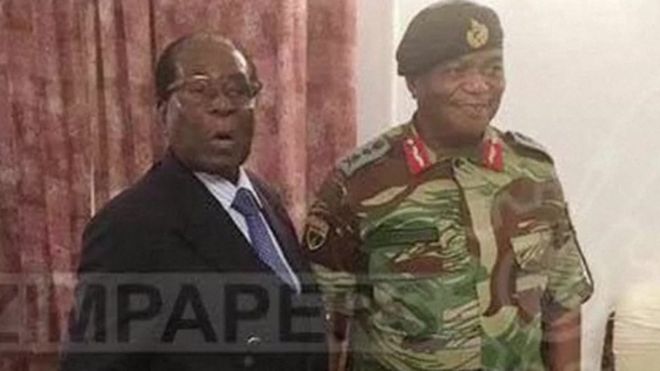 Robert Mugabe met the army chief who led the move against him

Zimbabwe's long-time President Robert Mugabe has been holding direct talks with the army over his future.

Pictures emerged of the 93-year-old meeting the army chief and two envoys from South Africa at his official residence in Harare.

The army put Mr Mugabe under house arrest on Wednesday after moving in to take control.

Opposition leader Morgan Tsvangirai says Mr Mugabe must resign but sources suggest the president is resistant.

The crisis stems from a power struggle in recent months over who might succeed him - his wife Grace Mugabe or former Vice President Emmerson Mnangagwa.

Last week, Mr Mugabe came down in favour of his wife, sacking Mr Mnangagwa and provoking the ire of the army chiefs.
BBC