Jesse Duplantis says God told him to acquire the private plane so that he could "preach the gospel of the Lord Jesus Christ".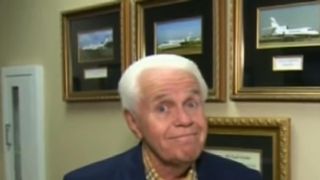 A televangelist has called on his followers to buy him a $54m (£40m) private jet because "if Jesus was on Earth today he wouldn't be riding a donkey".
Jesse Duplantis used his regular "This week with Jesse" broadcast to claim that God had told him to acquire the Falcon 7X.
The evangelist is the face of "Jesse Duplantis Ministries", which according to its website has been operating for at least 40 years.
Mr Duplantis explained that he already has a plane that he purchased in 2006, but it doesn't let him fly around the world in "one stop".
The American preacher told his viewers: "We're believing in God for a brand new Falcon 7X so we can go anywhere in the world in one stop."
Mr Duplantis then explained the new plane, which can carry eight passengers and three crew, meant he wouldn't have to "pay those exorbitant prices for jet fuel all over the world".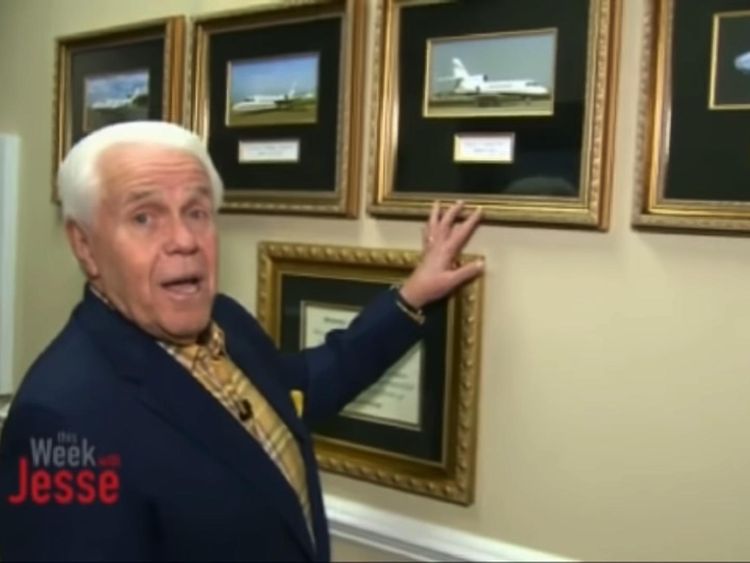 Image:Mr Duplantis showed off photographs of the three planes he has owned over the years
The televangelist suggested to his viewers that they "become a partner" to help him purchase the Falcon 7X jet, with a page on his website encouraging people to donate up to $1,000 to his ministry.
His site claimed that partners "sow financial seeds into the good soil of JDM to help spread the Gospel of Jesus Christ to the world".
In a statement during his broadcast, Mr Duplantis claimed God told him directly to acquire a Falcon 7X.
He said: "In one of the greatest statements the Lord ever told me, he said 'Jesse you want to come up where I'm at?"
"I said 'what do you mean?' He said 'Before you ask I'll answer'."
Mr Duplantis continued: "I want you to believe in me for a Falcon 7X.
"I said 'OK' but the first thing I thought of is how am I going to pay for it, and then a great statement that he told me in 1978 flooded into my mind.
"He said 'Jesse, I didn't ask you to pay for it, I asked you believe for it'."
Image:Mr Duplantis said he 'won't own the plane' because 'it will belong to the ministry'
Mr Duplantis added: "I'm not interested in learning to fly it, I'm interested in preaching the gospel of the Lord Jesus Christ.
"I really believe that if Jesus was on the Earth today he wouldn't be riding a donkey."
Earlier in his broadcast the evangelist reflected on his history of private jet ownership, revealing he purchased his first plane in 1994.
He bought his second aircraft in 2004 and his third in 2006.
Dassault, who makes the three-engine Falcon 7X, describe it as "the benchmark for the 21st century business jet".
The planes cost $54m according to the SherpaReport, which provides news and analysis on the private jet industry.