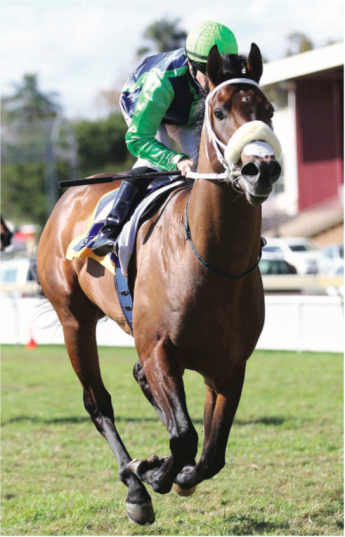 STRONG COMBINATION. Ancestry is trained by Joey Ramsden and will be ridden by Bernard Fayd'Herbe in Saturday's Grade 3 Highlands Stud Winter Derby over 2400m at Kenilworth. Picture: Gold Circle
Bass-Robinson has a strong hand with four runners.
Bernard Fayd'Herbe, who won the Winter Derby on the only two Winter Series winners – Pocket Power in 2006 and African Night Sky 12 months ago as well as on Liquid Mercury in 2015, teams up with Ancestry for Joey Ramsden in the Highlands Stud-sponsored Grade 3 test over 2400m at Kenilworth on Saturday.
Ancestry, who ran subsequent Investec Cape Derby winner Eyes Wide Open to 0.50 lengths in the Grade 1 Premiers Champion Stakes as a two-year-old, was fifth to unbeaten Rainbow Bridge in the Winter Guineas but ran a little below that when seventh to the same horse in the Winter Classic.
Ramsden, successful with Major Bluff in the 2003 Winter Derby as well as with Set To Music the following season and Liquid Mercury, also runs Rock My Soul, who will be ridden by Donovan Dillon, but has decided against running the filly, Fresnaye, who goes instead for the Listed Highlands Stud Winter Oaks on the same card.
Justin Snaith, who won with Elusive Silva two years ago as well as with African Night Sky, relies on the BMW Politician winner Doublemint and Love Happens who was third in the Winter Guineas and fifth in the Winter Classic. Doublemint has to give 1kg to the other nine as a result of his success in the Grade 3 Politician Stakes.
Candice Bass-Robinson holds the biggest hand with four runners and has yet to win the race although her father, Mike Bass, won it on five occasions.
This race has also eluded Brett Crawford who relies on Spring Man, only 0.75 lengths behind Doublemint when fourth in the Winter Classic.
The draw is unlikely to prove significant over this trip although, with the ground very soft last Saturday and more rain forecast, the race could well turn into a real test of stamina.
Final field and draws for the Highlands Stud Winter Derby (Grade 3) over 2400m at Kenilworth on Saturday.
1 – 2 DOUBLEMINT (S J Snaith) G van Niekerk 60.0 – 99
2 – 1 ANCESTRY (J Ramsden) B Fayd'Herbe 59.0 – 95
3 – 4 ROCK MY SOUL (J Rams- den) D Dillon 59.0 – 90
4 – 3 SPRING MAN (B Crawford) C Orffer 59.0 – 88
5-10LOVEHAPPENS(SJ Snaith) R Fourie 59.0 – 87
6 – 7 PACIFIC CHESTNUT (C Bass-Robinson) R Munger 59.0 – 82
7 – 9 MAN ABOUT TOWN (P Steyn) G Cheyne 59.0 – 79
8 – 8 BALLAD OF THE SEA (C Bass-Robinson) F Herholdt 59.0 – 76
9 – 5 CAPE XTREME (C Bass-Robinson) R Khathi 59.0 – 76
10 – 6 POWER TOWER (C Bass-Robinson) A Domeyer 59.0 – 72
Same Trainer: (1,5) (2,3) (6,8,9,10)
Citizen Reporter