A fairytale story of a maiden filly bought at the Kenilworth August Sale just ten months ago takes another thrilling turn as we count the days down to the Vodacom Durban July.
Veteran comeback kid Mark Khan has been booked for the ride to win his first July – and it's all systems go for trainer Paul Peter and the progressive filly's elated band of small owners.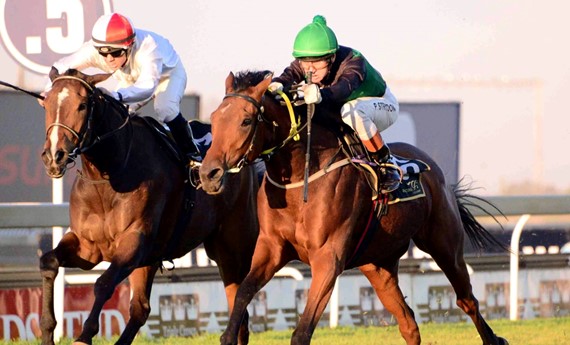 Sabina's Dynasty wins the Gerald Rosenberg
After our rollercoaster ride of the crash of two powerful big spending owners in 2017, the tonic of witnessing the success of small patrons has never tasted better. And the prospect of the July being won by ordinary people has to be the best advertisement to take SA horseracing at speed into a new season.
The story of the beautifully bred Sabina's Dynasty is one to celebrate.
Cape-based Financial Director Julian Rabinowitz signed the chit at R170 000 at the BSA Kenilworth August Sale for the 'battling maiden'.
"She had run 9 times for 6 seconds – even having a dip at Fairview. So we were taking a bit of a calculated chance," says Julian of himself and partners Anton Mandelstam, Johnny Peter and Advocate Manny Witz.
Julian goes on to observe that the sale also produced East Cape Derby winner American Landing, a full brother to his purchase, and July hopeful Made To Conquer.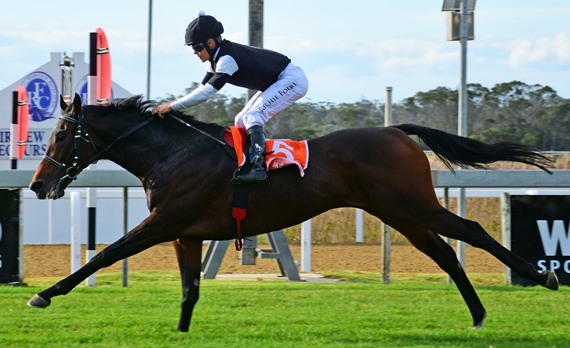 Full-borther American Landing wins the East Cape Derby (Pic – Pauline Herman Photography)
"That's quite an endorsement of the sale!"
While the partners have great respect for the Snaith Racing Team, they felt that Sabina's Dynasty needed a change of scenery in Johannesburg.
Their strategy has worked!
The once battling maiden won her first two starts by over ten lengths and seven runs and two further wins later, she is the 2018 title holder of the Gr2 Gerald Rosenberg, and a valuable broodmare prospect and a July candidate.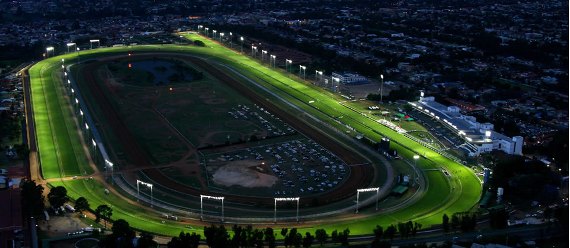 "I live in the Cape and love it. But just prefer the Joburg racing experience. I never miss a runner there. The drought and the lack of facilities in the Cape are contributory factors. Patience is a requirement in this game but time is money and horses eat every day. In Joburg, horses are mostly familiar and tested when they come racing. In Cape Town, races are generally used as gallops and an owner can seldom be given confidence with a first timer – no matter the price tag or ability – as it is often literally the first time the horse has seen the grass. "
He tells of the raceday experience and the general professionalism, atmosphere and vibe at Turffontein versus Kenilworth or Durbanville.
"The Cape facilities are something than can be resolved I believe. But we need to work on it – and I don't have all the answers," he adds.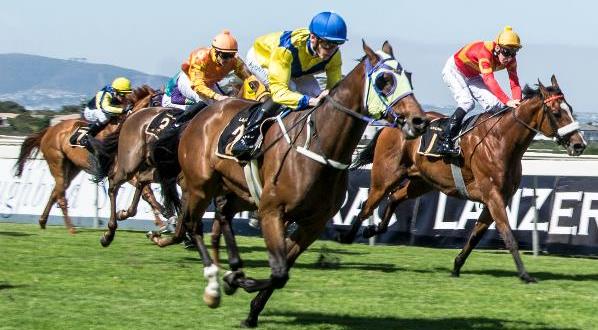 Kenilworth action (Chase Liebenberg Photography)
Of Sabina's Dynasty, Julian admits it has been a dream come true. He cannot wait for 7 July.
"We wanted an experienced strong jockey. We got Mark Khan. Sabina's Dynasty has a turn of foot and is a proven stayer – running just behind Al Danza in The Jacaranda, and comfortably beating Wind Chill and Girl On The Run to win the Gerald Rosenberg."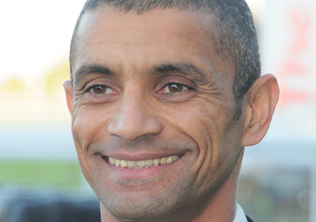 Mark Khan – will ride Sabina's Dynasty
Julian has a theory that one needs a horse who can turn it on in the final 400m to win the July.
"Look back in history – it's not like the Cape where you can hang on in front. Our filly is a 4yo. She is experienced and strong and she will come in with a decent weight. We go in hoping – but mostly proud to have a July runner. And here's to the future of small owners and trainers, in the post power-player era."
Trainer Paul Peter played down taking all the credit for the turnabout in fortunes of Sabina's Dynasty.
Paul Peter – great job with the 4yo
"We have managed to get her to settle down and she now shows her true ability on the track. The fact is that the Dynasty progeny mature and she is a much better 4yo than a 3yo. I expect her to be even better next season. Her half-brother won the Summer Cup as a 7yo,so there is performance longevity in this top-class family too."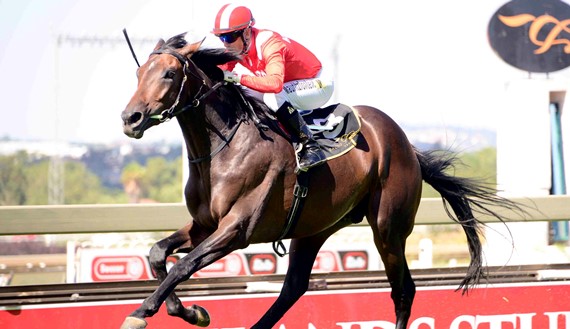 Majestic Mambo – headed for July
If any or all run in the big one, Sabina's Dynasty, Majestic Mambo and Fort Ember will remarkably be Paul Peter's first July runners.
Have you seen the latest SP Digest? Click on the cover image below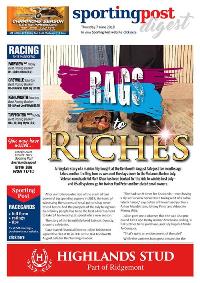 "Fort Ember needs to run in the top two in Sunday's Jubilee Handicap I think. Majestic Mambo came back and showed his class in the Daily News after a luckless run. Sabina's Dynasty won the Gr2 at her last start. She stays well and is classy," quipped Paul.