Paul Peter hopes to be painting Durban red on Saturday 7 July!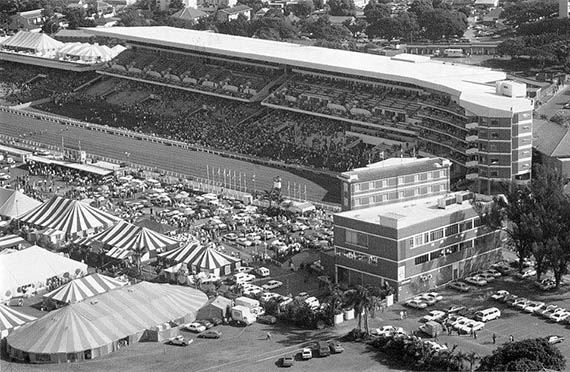 The former paint retailer turned racehorse trainer saddles Majestic Mambo and Sabina's Dynasty in the R4,25 million Gr1 Vodacom Durban July – his first ever runners in the contest popularly labelled Africa's Greatest Horseracing event.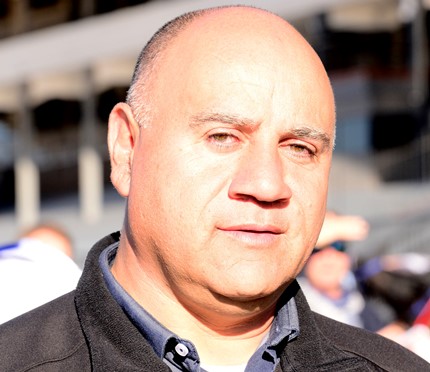 Paul Peter – (Pic – JC Photos)
The 46 year old Turffontein-based conditioner is enjoying the season of his life and celebrated a confidence boosting milestone at Turffontein last Thursday when joining the prestigious, and sparsely populated,'Jackpot Club'.
"I have had a good few three-timers. Never four on the day. The fact that it was the jackpot was a bonus!" he says.
Paul saddled Hungry Heart (9-2) in the first leg, followed by Seven Lives (8-10), Rebel's Champ (7-2), with the Australian-bred Hideaway (4-1) rounding off the rare achievement of trainers to have saddled the jackpot. Piere Strydom rode three of the four winners, with apprentice Lyle Hewitson guiding the gallant topweight Rebel's Champ to victory.
Two of those jackpot stars – Seven Lives and Rebel's Champ – will be lining up at Greyville on 7 July. And it is no coincidence that the greenhorn Paul Peter saddled his first ever winner at the same venue on July day 2010!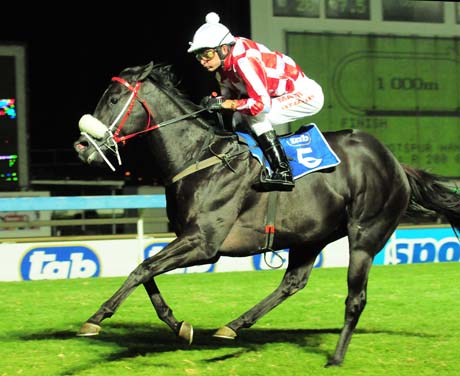 Magico wins Tommy Hotspur
"It feels like only yesterday. What an honour it was – I was saddling my 33rd runner when the top-class Magico, backed from 5's to 12-10, won by over 3.25 lengths. That was an unbelievable feeling, especially because it was a big day!"
He is ticking off the days on the stable calendar to 7 July.
Paul intends scratching Fort Ember from the July.
"She is not herself at the moment. I don't want to take up a berth in the big race with a horse who is not at her best. She is a high-class mare and owes her connections nothing."
In addition to Seven Lives and Rebel's Champ (headed for the poly), he intends running the promising Australian-bred two-time winner Nautic Spirit on July day – and then also the Gr2 Fillies Mile winner Folk Dance, who will line up in the Gr1 Garden Province Stakes.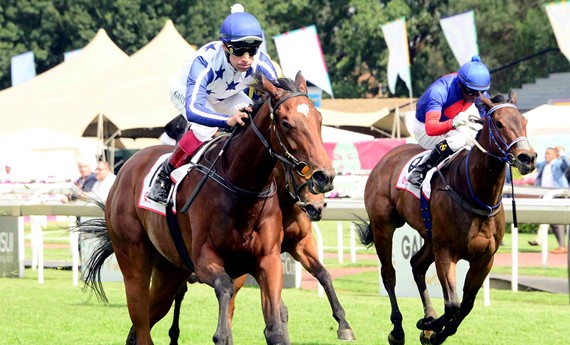 Folk Dance – big runner in Garden Province Stakes
"Put a line through Folk Dance's run in the Tibouchina Stakes last time. She didn't travel well throughout the race and finished just over 3 lengths off The Secret Is Out. She is much better than that. Include her in all exotics over the further trip on July day," he suggested.
Paul has had a multitude of Gr2 and Gr3 winners. But a Gr1 score has eluded him thus far. Could the dream become reality in the Vodacom Durban July?
"Look, I am a simple guy. I love my horses and my job. I had my first winner on a big day and I don't want to even think about the emotion and thrills that would come with winning the July – my first ever Gr1 – at my first try! That sounds like a fairytale. Legends like Jeff Lloyd have been to the well 26 times. And many very good trainers retired without ever saddling a July winner. So let me not get ahead of myself! But the frightening reality is that I have two serious horses in the big race. My pair are super fit and ready to take on the big guns," says Paul.
He is referring to the 3yo Majestic Mambo and the vastly improved recent Gr2 Gerald Rosenberg winner, Sabina's Dynasty.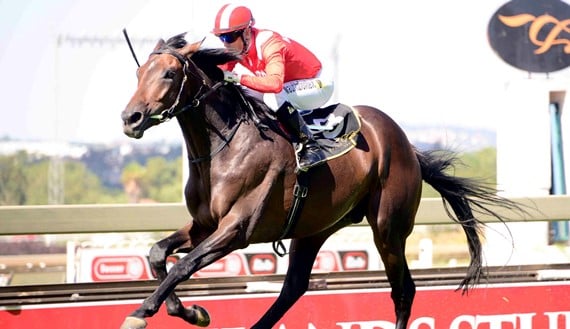 Majestic Mambo – headed for a big date
"Majestic Mambo has settled down well. He showed his true ability again when chasing Surcharge home in the Gr1 Daily News 2000 at Greyville last time. He is not playing silly games or haemoconcentrating and it would be a waste to geld him. He is a magnificently talented horse. We have high hopes of this colt and Callan Murray will ride him again."
The rags-to-riches tale of the impeccably related 4yo Sabina's Dynasty has been well documented in these pages.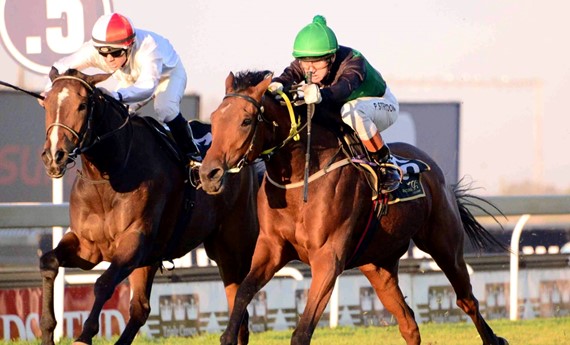 Sabina's Dynasty wins the Gerald Rosenberg
"Wouldn't that be one for the media!" says Paul of the Dynasty filly, who has gone from strength to strength since being purchased as a maiden by Julian Rabinowitz for relatively small money in August last year.
Did you read the Sabina's Dynasty story?
"She has thrived here in Gauteng. She is getting better all the time and deserves her place in the final field. She quickens smartly and stays well. She is an exciting sort," adds Paul of the half-sister to Summer Cup dual winner Master Sabina. Her Brett Crawford-trained East Cape Derby winning full-brother American Landing could also make his presence felt on the big day.
As regards Sabina's Dynasty's riding arrangements, Paul says Mark Khan was pencilled in but he could have other options and they may have to find another jockey.
"She is a serious contender. We won't battle to get a good rider."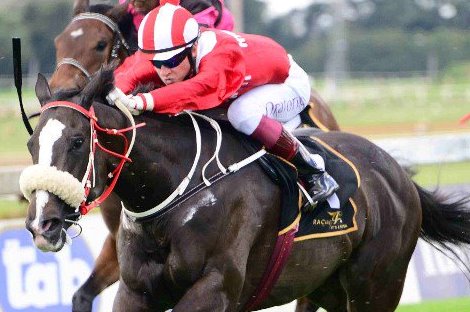 Paul admits he may be suffering a few sleepless nights in July week and intends taking his horses down a day or two beforehand.
"We have our own float but I will utilise New Turf Carriers for that trip. I am a relaxed guy – nothing worries me too much but the July is the holy grail – we have worked hard towards this. Things haven't always gone smoothly. But this game tames lions as they say and we will take things in our stride and let our horses do the talking," he says.