Justin Snaith had an average kind of day by his high standards on Saturday, but he was on record suggesting that today could be a cracker for his ace team.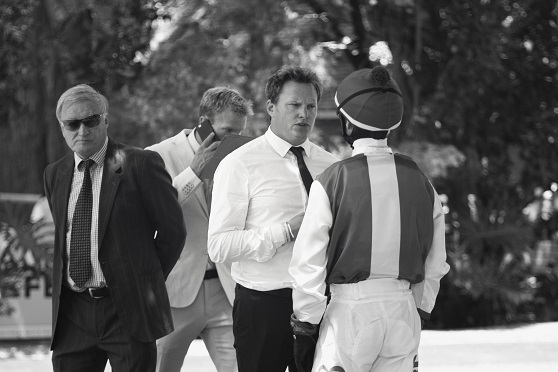 With eleven runners carded, the SA Champion outfit could be the team to follow.
There is rain forecast so check the going reports.
The first race goes off at 13h20 and is also the Bipot opener.
1 13:20 – ITSARUSH.CO.ZA WELCOMES YOU MAIDEN PLATE (F & M)
1 RULETTA G S Kotzen: Expecting a fair debut
2 SAFFRON HILL A N Marcus: Will come on from the experience
4 BEHOLDEN V H Marshall: Will need the run
6 DANCING SALLY S J Snaith: Should be green and looking for further
9 GIMME LONDON C Bass-Robinson: Nice filly, may need the experience, should run a fair race
11 PRINCESS ELSA G S Kotzen: May need the run
12 QUEEN NITOCRIS C Bass-Robinson: Nice filly, will need further
14 STAR FIGHTER C Bass-Robinson: Will need the experience
2 13:55 – BOOK YOUR PLACE AT MATCHEM STAKES – 6 OCTOBER MAIDEN PLATE
1 WATER BOURNE P D Reeves: No comment given
5 ERNESTO S J Snaith: Has been gelded, small place chance
10 PEGA D'ORO G V Woodruff: Has shown nice work but may need the experience
11 SPRING FLING G S Kotzen: Nice big strong horse but may need the run
12 STEALTH ADMIRAL D Kannemeyer: May just need the run
13 THE SOLUTION D Kannemeyer: May just need the run
3 14:30 – TABONLINE.CO.ZA MAIDEN PLATE
6 ZARATOS D Kannemeyer: May just need the run
7 CARLTON HEIGHTS D Kannemeyer: May just need the run
9 GOING BACK WEST V H Marshall: Will need the run
10 GREEK SWORD D Kannemeyer: May just need the run
4 15:05 – SUPABETS 0861 76 22 37 MR 88 HANDICAP
3 SILVER MAPLE S J Snaith: Nice horse, expect good run
5 15:45 – BETTING WORLD 087 741 2777 FM 81 HANDICAP (F & M)
1 AHOY ME MATEY W A Nel: No comment given
5 PERFECTPROPORTIONS C Bass-Robinson: Prep run for the season, may find this on the sharp side
6 16:25 – POTJIE COMPETITION – 6 OCTOBER AT DURBANVILLE MR 74 HANDICAP
2 DAYONAUT P D Reeves: No comment given
4 REDIAL D Kannemeyer: May just need the run
-Thanks to Phumelela Publishing