Elegushi was in the car and not Ooni of Ife!
Aare Dele Momodu, the Publisher of Ovation International and global businessman seems to have decided not to go ahead with the expected fireworks observers look forward to from him after the video of how fuji musician, King Wasiu Ayinde Marshal disrespected the Oluwo of Iwo, Oba Abdulrasheed Adewale Akanbi publicly went viral on Sunday.
In a chat with PMParrot, Bob Dee as he is popularly called by admirers informed that "the pressure from friends is too much", so, he has decided to pull down his pronouncements online against the popular musician.
Momodu had earlier expressed his displeasure after watching the said video where KWAM 1 who was, perhaps, drunk was seen prostrating for the Ooni of Ife, Oba Adeyeye Ogunwusi but shaking hands with the Oluwo of Iwo and disrespecting him verbally.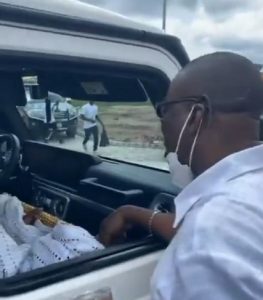 …King Wasiu Ayinde…as seen in the video…chatting with the Oluwo of Iwo in a vehicle…the Ooni is seated in the back…
In the video K1 was seen and heard saying "Kabiyesi" and prostrating to the Ooni while he extended his hand to the Oluwo and said "se o ye ki o se oye fun Dele (Momodu) ko ma pe mi, se ko ye ki iwo pe awa?" (Is it right for you to organize a chieftaincy title for Dele without calling me, was it right for you not to inform us?"
Naturally, when the video went viral and it got to Dele Momodu, he responded accordingly by posting online that "A friend in Abuja has just sent this video to me and I'm absolutely horrified, to say the least, at the total and OPEN disrespect of The Oluwo of Iwoland OBA ABDULRASHEED ADEWALE AKANBI by KING WASIU AYINDE, a great musician I endlessly adore and hold in highest esteem.
"ALHAJI, I personally invited you and pleaded with you to perform at the ceremony on October 2, 2021, for an agreed fee, but you neither said Yes nor No but said you're likely to travel. Again, I hosted your Manager, Mr Kunle Rasheed to breakfast and asked him to speak to you and confirm modalities for your performance…
"Egbon, what happened in this video is very unfortunate and deserves OPEN condemnation…"
Kunle Rasheed, the spokesperson for the musician could not be reached as at the time of publishing this.
Culled from pmparrot.